Discover Eataly
How to Bake Bread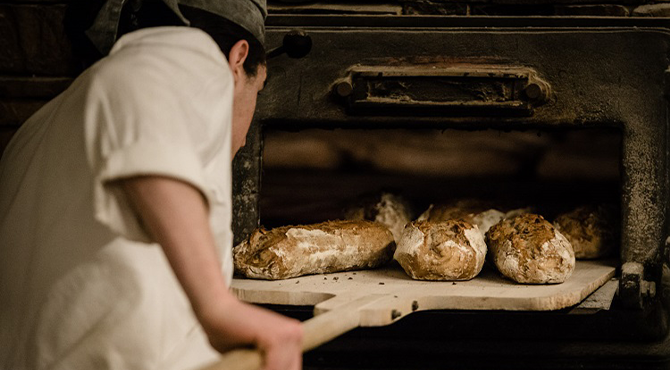 In Italy, making, baking, and breaking bread is an ancient art. Each region – indeed, almost every town and village – boasts its own traditional recipe based on the local ingredients. Whether in northern Piemonte or southern Sicilia, the key to the perfect loaf is using the highest quality ingredients: stone-ground flour and natural yeast. At
Eataly, we have created our own "local" bread.
MIX IT UP.
We use high quality Mulino Marino flour.
REST AND AUTOLYZE.
In baking, autolysis is the process in which the water causes the enzymes in flour (amylase and protease) to begin to break down the proteins (glutenin and gliadin), forming gluten. Loaves made via the autolyze method are easier to shape (which minimizes over-kneading and hardening the dough) have more volume, and feature a "better crumb structure." In other words, the resulting bread will look, feel, and taste better.
ADD THE YEAST.
The mother yeast is the key to transforming flour and water into bread. Yeast makes the bread rise and adds a unique flavor that is specific to the climate, water, and history behind each mother.
REST AGAIN.
Rest for 11 hours. During this period, the dough slowly rises.
GET HANDSY.
Our bakers shape more than 2,000 loaves of bread by hand every day!
PUT YOUR BAKER HAT ON.
Our wood-burning oven is fired 24 hours a day, so each loaf bakes in just a few quick minutes.
BREAK THAT BREAD!
After discovering this extensive baking process, it's time to relax and join in the ancient tradition of breaking bread with friends and family.
Buon appetito! Discover our freshly-baked bread at our bakeries! 
RELATED ARTICLES