Discover Eataly
Guide to Italian Pizza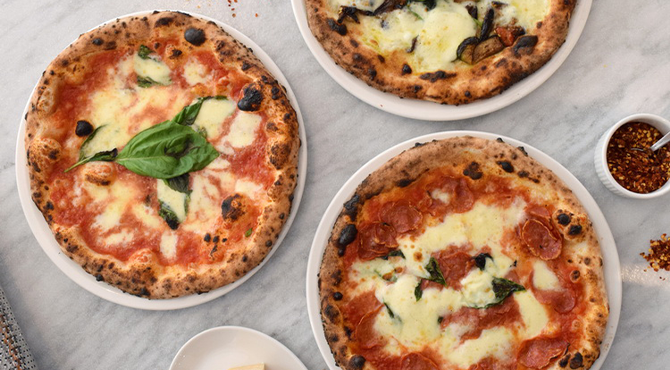 Italians take their pizza very seriously. La pizza napoletana, created in Napoli, is always a single-serving round dish baked for three minutes in a blisteringly hot wood-burning oven, served piping hot, and eaten "the right way."
Discover everything that you should know about Neapolitan pizza with our comprehensive guide, from dough kneading to wine pairing!
IT'S ALL ABOUT THAT BASE.
Good pizza starts with the dough, which should always be made with high-quality flour and left to rise for several hours.
MASTER THE PROCESS.
Learn from centuries of traditions of pizzaioli (pizza makers), who contributed to our guide to making your own pizza!
TIME TO GET TECHNICAL.
You are reaching maestro status! Transform your kitchen into a Neapolitan pizzeria with our classic recipe for pizza margherita.
PAIR PIZZA WITH WINE
What is pizza without wine? Well – still delicious – but now you can find the perfect pairings with our pizza-wine guide!
EAT GOOD PIZZA WELL.
Before you pick up that first piping-hot slice, think twice: there is "a right way" of eating Neapolitan pizza! Here's how we eat pizza in Italy.
Finally, you're ready to taste our award-winning pizza! Find your closest Eataly to eat in La Pizza & La Pasta restaurants and pick up the same ingredients in our market to make your own at home.
Buon Appetito!
RELATED ARTICLES