Eataly Recipes
Crostata alla Marmelatta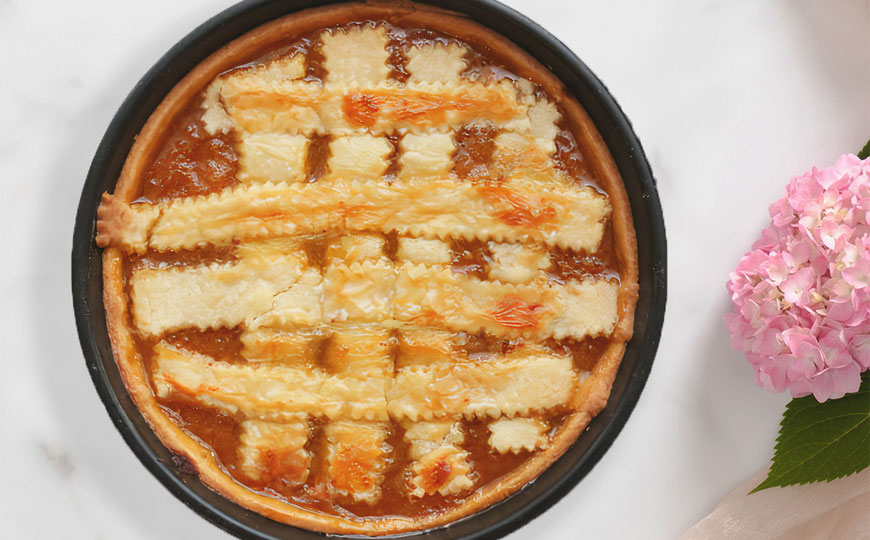 Crostata alla Marmellata (Jam Tart)
Recipe courtesy of Eataly
Yield: 12 slices
2 cups jam, any flavor
¼ cup apricot jam (optional), for glaze
1 cup unbleached all-purpose flour, plus more for rolling dough
¼ sugar
6 tablespoons unsalted butter, cold and cut into pieces, plus more for pan
1 egg yolk
1 pinch fine sea salt
¼ cup apricot jam (optional), for glaze
Place the flour, sugar, and salt in a bowl, and mix with a fork to combine. Scatter the butter on top and, with a pastry cutter or your fingers, pinch the butter until the mixture resembles coarse meal. Add the egg yolk, and stir with the fork again until thoroughly combined. (You may need to switch to kneading briefly by hand.)
To make the crust with a food processor, place the dry ingredients in the bowl fitted with the metal blade. Pulse to combine, add the butter, and then pulse 4 to 6 times again, until the mixture resembles coarse meal. Add the egg yolk, and process just until the dough forms a ball.
Shape the dough into a fat disk, wrap it in plastic wrap, and refrigerate for at least 1 hour and up to 1 day.
When you're ready to bake the tart, preheat the oven to 350°F. Butter either an 8- or 9-inch tart pan with a removable bottom or an 8-by-8-inch square pan, and set aside.
Place the dough on a lightly-floured work surface. Cut off about one third of the dough, rewrap it in plastic, and set aside. (Refrigerate if your kitchen is warm.) Roll the two-thirds of the dough ¼ to ½ inch thick in a circle or square about 1 inch larger than your pan. If the dough resists, let it relax for a few minutes and come back to it. Wrap the rolled dough around the rolling pin, transfer it to the pan, and unfold it into the pan. Press it against the bottom and sides of the pan.
Cut off a small piece of dough from the remaining piece and, with your hands, roll it into a ½-inch rope on the work surface. Place the rope around the perimeter of the pan on top of the rolled dough. Return the remaining dough, wrapped in plastic, to the refrigerator.
Line the crust with foil, fill with dried beans or pie weights, and bake until the crust is set and matte, about 15 minutes. Remove the crust from the oven, and allow it to cool slightly. In the meantime, increase the heat to 400°F. When the crust is cool enough to handle, spread the 2 cups of jam in it in an even layer. Lightly flour the work surface, and roll out the remaining dough to the shape of the pan but 1 inch larger all around, between ¼ and ½ inch thick. Cut this into ½-inch to 1-inch wide strips for the top lattice. Place alternating strips on top of the tart, attaching the ends to the rope of dough that you created earlier. Arrange the remaining strips at an angle to the first strips, again attaching them to the rope of dough. Lattice made!
Now, bake your tart until the lattice strips are golden and dry, for 15 to 20 minutes.
If using the glaze, while the tart is baking, combine the apricot jam with 2 tablespoons of water in a small pot. Heat over low heat and whisk to combine, then strain out any chunks of fruit. While the tart is still warm, brush the lattice strips with the glaze. Cool completely on a rack, and serve at room temperature to your lucky guests.
Buon appetito!